LAYHER SCAFFOLDING
A PARTNERSHIP IN EFFICIENCY AND PROFITABLITY
LAYHER SCAFFOLDING
A PARTNERSHIP IN EFFICIENCY AND PROFITABLITY
Layher scaffolding is synonymous with successful construction jobsites. When you purchase a Layher product, you are investing in the long-term success of your project. As a world leader in modular scaffolding, you benefit from our decades of experience and our employees' extensive skills. In selecting Layher, you choose partnership, efficiency, and profitability. But it doesn't end with your initial purchase. Layher will continue to prove that in scaffolding construction, the possibilities with us can be endless. Welcome to the world of successful scaffolding.
REDUCED SHUTDOWN TIME WITH THE LAYHER ADVANTAGE
Whether you're a manager, safety leader, engineer, or purchaser, the true cost of scaffolding includes indirect costs to productivity and other consequential expenses like extended downtime and potential threats to worker health and safety.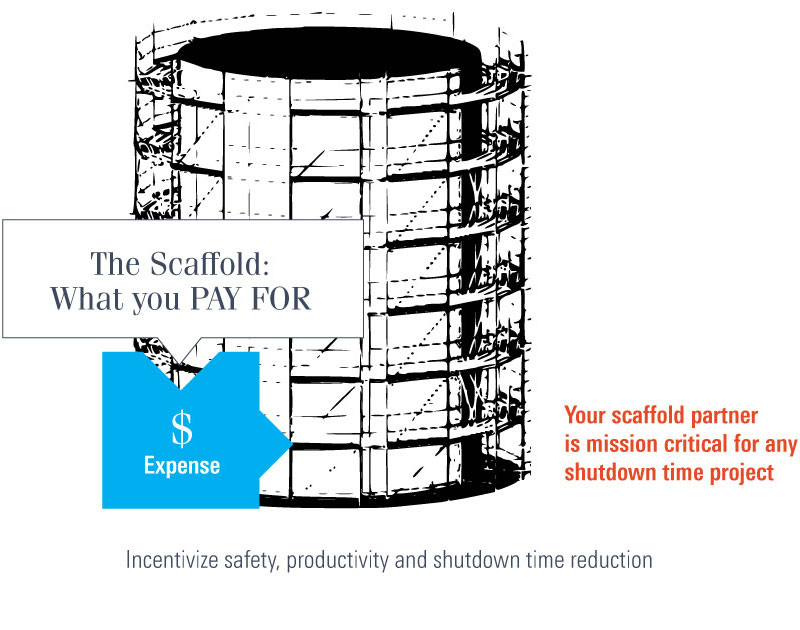 SIMPLE, VERSATILE, EASY-TO-HANDLE, SAFER, ADAPTABLE, AND TRANSPORTABLE
These are just some of the adjectives our loyal clients in the Mining and Raw Materials Industry have used to describe our scaffolding. They depict our world-class products and also indicate why our clients keep coming back. They continue to deploy scaffolding from Layher as we continue to improve an already world-class product.
SCAFFOLD SYSTEM SOLUTIONS
SCAFFOLD SYSTEM SOLUTIONS
SAFER AND FLAT WORK PLATFORMS – OPTIMISED FOR THE JOB TO BE DONE
Since no plant is like another, scaffolding systems have to be flexible and adaptable. With Layher scaffolding, that's no problem: Thanks to the option of laying the decks over the rosettes, a gap-free solution can be accomplished without additional expense or effort. For special cases specific to the site, we offer a comprehensive portfolio of expansion parts for achieving completely closed work surfaces within the system.
Solution-oriented components
Special decks
Penetrations with interchangeable ledgers
Telescoping scaffolding decks
Gap deck
Steel gap cover
Steel plank
VESSELS
Closing the gaps in round equipment is often a challenge. Covering with steel or wood planks can be classified as a risk of tripping. In addition, these must be protected against unintentional lifting and slipping, which can cause problems depending on the type of soil used.
Solution-oriented components
Flexible angle selection of Allround rosette
Work surface adaptation for circular scaffolding
SUSPENDED SCAFFOLDING SOLUTIONS
When the work areas are very high up, standard scaffolding structures can often be uneconomical due to high material and labour costs. With Allround Scaffolding, suspended solutions can be achieved without any problem in such cases. Pull-resistant securing of the standards with hinged pins or by bolting them together allows forces to be optimally transmitted.
Solution-oriented components
Suspended scaffolding structures
Suspended scaffolding accessories
Cantilevering and crane movability
CRANE MOVABILITY
The high fitting precision in the Layher system enables scaffolding structures to be preassembled on the ground, complete or in individual segments. Thanks to pull-resistant connection of all individual parts, they can be moved quickly and easily into position using a crane. This is a major advantage when it comes to efficiency and profitability. At the same time, safety during assembly increases many times over. Because the best fall protection is when there is no risk of falls in the first place.
Solution-oriented components
Stairtowers
Work Scaffolding
Bridging
FIRE SAFETY, WOOD-FREE SOLUTIONS
Reduction of the fire risk is a requirement frequently expressed for scaffolding in refineries, chemical factories, and other fire-sensitive industrial plants. Components made of wood can be ruled out for obvious reasons. Layher has the optimum alternatives: system decks and matching toe boards made of steel or aluminum. Gap solutions made of steel, and scaffolding coverings made of low-inflammability tarpaulins or the Protect System, round off the range.
Solution-oriented components
Steel deck LW
Toeboards of steel and aluminum
Steel plank
THE FUTURE OF SCAFFOLDING IN THE MINING AND RAW MATERIALS INDUSTRY IS DIGITAL — AND ITS NAME IS SIM
SIM or Scaffolding Information Modeling is a scaffolding design process based on 3D models. At Layher, we use it to meet the precise requirements of industrial scaffolding, including those used in mining and raw materials. SIM helps us to plan, assemble, and strategically manage temporary scaffolding structures in the most efficient ways possible.
SIM allows you to:
Plan your scaffolding in detail before it is being built

Strategize and schedule your project with certainty and confidence

Increase the safety and profitability of your project

Provide transparency and cost control for its lifespan

Budget, schedule, simulate the construction processes and conduct feasibility studies

Assist in implementation, including assembly, approval, use, modification, and dismantling of any scaffolding project within Mining and Raw Materials

Verify structural loads
LAYPLAN SUITE – THE INTEGRATED SOFTWARE SOLUTION.
Time and material are crucial factors in scaffolding construction.
To make the most efficient use of both, the Layher range includes the practical scaffolding planning software LayPLAN.
YOUR SUCCESS IS OUR PRIORITY
Increased Profits, Improved Safety, Developed Efficiency
LAYHER ALLROUND® SCAFFOLDING
Essential for Mining and Raw Materials Industrial Scaffolding
By using a simple, unique, and bolt-free connection technology, our system scaffolding, known commercially as Allround, has developed an international reputation as a superior product. This type of scaffolding is minimal in weight while maintaining a high and ideal transfer of force. The Allround Scaffolding offers several advantages in the mining and raw materials industry.
Increased Safety & Versatility
The incredibly high safety demands and increasingly shorter periods available for building mining plants and extending and maintaining these plants mean that Layher's Allround scaffolding system is an invaluable aid to the success of a client's project. Its certified quality, versatility, and tremendous variety of parts enable us to provide our customers with safer and profitable solutions.
Allround has been designed to reduce transportation costs, thus helping to improve the profitability of your project. Allround helps to assure an effective solution to a client's project. This is done by optimizing material and human resources, improving the assembly's productivity and performance, and delivering significant savings in labor costs.
Assembly and Construction of Mining Plants – Reliable, Precise, and Effective.
From assembling crushers and other large mining equipment and raw materials, Allround scaffolding is perfect because it has a high load-bearing capacity and is constructed of a high-quality, thereby, allowing for designs and solutions with fast and reliable structural strength verification. Both are the trademarks of Layher.
Maintenance of Mining Plants and Raw Materials – Safer, Versatile and Profitable
Allround plays a vital role in mining maintenance. The uncertainties often associated with having enough scaffolding can be eliminated by having ample amounts of Allround already at site. Therefore, when needed, they're on hand, and project work doesn't have to be delayed waiting for scaffolding to be delivered.
From the maintenance of belt conveyors to grinding mills, each of these examples require different scaffolding that can adapt to various heights and lengths without compromising safety and quality. The beauty of Allround is that it is versatile enough to meet these pieces of equipment at their unique height, length and width and get the job done.
Our Allround system also has a wide variety of accessories which provide many solutions straight out of the box quite literally. With over 4000 different parts in stock and 15,000 on drawing, Layher has the right solution for almost any mining and raw materials industry dilemma.
LAYHER TRAINING
&

ON-SITE SUPPORT
On-site, In-house, and Remote Training Options
We offer all of our mining and raw materials clients scaffold training for their various applications on-site. Our industry and product-specific training courses can be provided either on-site, in-house, or remotely via our qualified trainers. The training will address the dual objectives of safety and continuous improvement within the demanding mining and raw materials industry. Our practice is structured to match all levels of expertise. The courses cover a variety of topics from correct scaffolding installation to highlighting the benefits that can arise from the use of authentic Layher equipment.
We offer a variety of classes, both theoretical and hands-on in approach. The training will be tailored to the specific needs of the project. Each course has a duration of one to several days. For personalized attention, the classes are small, with no more than nine trainees per class.
Layher On-Site support provides an extra resource for your most critical projects. Our experts will be there to answer your questions and ensure that your mining and raw materials project is progressing as planned. Layher engineers often work together with field supervisors to ensure effective logistics planning, including transportation and loading. They provide straight-forward communication between trades and a reduction in change orders.
Layher, the World Leader in Industrial Scaffolding
Layher has been a spring of innovation, superior products, and world-class engineering for more than 75 years and counting. Layher's products and most notably Allround are easy-to-use, fast to assemble, and offer tremendous value thanks in part to all its components' long service life. Layher's scaffolding systems are ideal for various uses within the mining and raw materials industry and many other areas. Should you have any questions regarding how Layher can help your project, please do not hesitate to contact us.
LAYHER, YOUR PARTNER IN SUCCESS
Questions regarding how Layher can help your project, please do not hesitate to contact us.